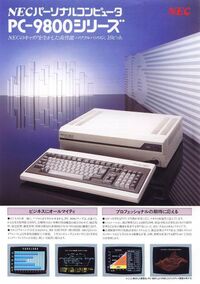 The PC-9801 (usually abbreviated PC-98) is a Japanese personal computer launched by NEC in 1982. It was the first generation machine in the PC-9800 Series and was the successor to the PC-8801 computer.
The PC-98 is based around an Intel x86 processor and runs DOS operating system, but although seemingly similar to the IBM PC or clones, both computer architecture and softwares are not compatible with.
This machine was initially developed for business applications and quickly became the most successful computer platform in Japan. It was the favored system for PC game developers and thousands of titles were released until 1998.
Articles about games for the PC-9801
PC-9801 Games
Compile Disc Station
Ad blocker interference detected!
Wikia is a free-to-use site that makes money from advertising. We have a modified experience for viewers using ad blockers

Wikia is not accessible if you've made further modifications. Remove the custom ad blocker rule(s) and the page will load as expected.