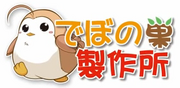 Debonosu Works / Debo no Su Seisakusho (でぼの巣製作所) is a japanese developer and publisher of adult video games (eroge), including role-playing games, SRPGs, and visual novels.
On March 17, 2009, Kazue Yamamoto as president of Studio Ego Corporation / Studio e.GO! known for their Castle Fantasia and Izumo series, resigned and founded Debonosu Works. This brand was launched the same month. In addition, most of the remaining staff has left the company two days later. The company uses a fat sparrow named "Debo" (でぼ, "plump") as its mascot.
Games by Debonosu Works
Edit
External Links
Edit
Ad blocker interference detected!
Wikia is a free-to-use site that makes money from advertising. We have a modified experience for viewers using ad blockers

Wikia is not accessible if you've made further modifications. Remove the custom ad blocker rule(s) and the page will load as expected.