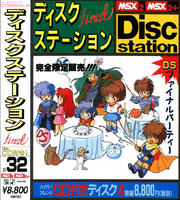 Disc Station is a disk based magazine that includes games, demos, previews, softwares, videos and music. It has been published by Compile from 1988 until 2000. Some of these games will remain Disc Station exclusives, such as Aleste Gaiden and Rude Breaker.
Although initially designed on floppy disks for the MSX2, several volumes were subsequently launched for the PC-9801, and later in CD-ROM format running under Windows 95/98/XP operating systems. In all, 33 of these magazines are compatible with the MSX, excluding special and deluxe editions. The first volume was stamped number zero (DS#00) and was marketed in July 1988.
Disc Station games
Edit
Ad blocker interference detected!
Wikia is a free-to-use site that makes money from advertising. We have a modified experience for viewers using ad blockers

Wikia is not accessible if you've made further modifications. Remove the custom ad blocker rule(s) and the page will load as expected.